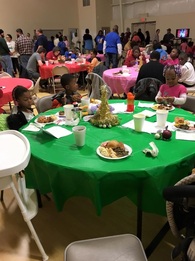 During the Christmas Celebration 2015, our past guests had an opportunity to anonymously share their thoughts and experiences from staying at Head of the Giant Ministry's Women and Children's Shelter by filling out a questionnaire. The following testimonies are from those questionnaires.
---
"My family and I were homeless for about 2 months when we were able to get into the shelter program at Head of the Giant Ministry. At the time I was 8 1/2 months pregnant and I had no where to go. I was very discouraged and battled with depression. I wanted to do better for my family, but I was out of options. When I entered the shelter with my two children, it was a relief to have somewhere safe to stay. I was able to make new friends with the other women in the shelter. My children made friends while staying there too. I was already a believer when I came to HGM, but while I was there, my faith grew so much. I was able to see for myself God working miracles for my family and others. The churches that came to be a blessing during the chapel time let me see that there are people that care about others. I believe God led me to stay at Head of the Giant Ministry, and that God used them to give me a place to stay and to help my faith in Him. I am now living in my own apartment with my baby and my two older children. We have what we need, and we know God is taking care of us." Mother with 3 children ages 18 months, 5 and 6 years old, that was a guests for 2 1/2 months.
---
"Head of the Giant Ministry gave me a place to stay when I had nowhere to go. I had no one to help me. I was scared. I had 4 young children when I stayed there, and I wanted to keep my children safe. Head of the Giant Ministry provided me with a safe place to stay, and gave me resources to find a job and a place to live. The people there really care about you and help you. Being in the shelter and going to church and chapel services gave me the faith to trust God to work things out, and He did. They also gave me a family of people that cared about me and my family and worked to help me. They really cared about my situation and loved on my kids." Mother of five children (currently five children, but when she stayed at HGM only had four) ages 6, 5, 4, 2, and 9 months, and stayed with HGM 4 months.
---
"Head of the Giant Ministry provided me and my son a stable place to stay when we were homeless. They also helped me find a job, and they made sure that we had everything we needed while we were there. We stayed there during Christmas 2014 and my son and I both received a lot of gifts. As a mom, it is sad when you can't give your child presents for Christmas. So many people came by with gifts for us, and it was the best Christmas he has ever had. The staff at HGM helped me find a place to live and has continued to give me things that I need like furniture and household items. I can never thank them enough for all that they did for me and my son. I believe God used HGM to help my family and to reconnect with my faith in Him." Mother of a 7 year old child that stayed with HGM for 6 months.